SOLD - Patrol Boat
---
SEE DETAILED SPECIFICATIONS BELOW
VESSEL IDENTIFIER: AIC10
Price: U.S. $ 1,200,000.00
PARTICULARS

Feet
Meters
Length
45
13.5
Breadth
14
4.24
Air Draft
Draft
1.5
.58
Speed
40 Knots/20 Knots Cruise
Fuel Consumption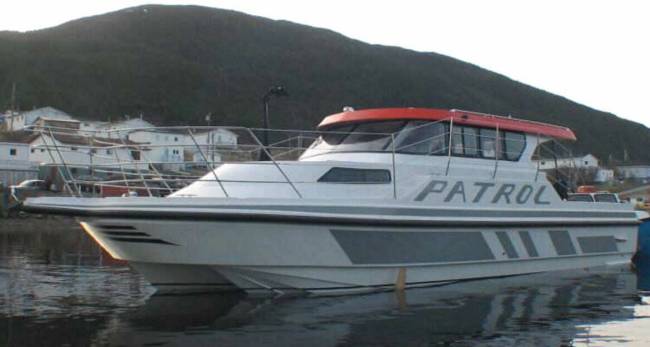 PARTICULARS
Flag
Not Flagged
Year Built
New Construction
Displacement
23,400 Lbs/10,636 Kilos
Location
Eastern Canada
Class

GRT

12
Construction Material
Kevlar Tri-hull 10 Year Warrantee on Hull
Accommodations
Power

Main Engines

2 - 340 HP Peninsular Diesel
Generator
25 KVA
Propeller
Bollard Pull
Winch
Water Capacity
Fuel Capacity
High Speed Patrol Vessel Preliminary Specification
STANDARD FEATURES
MAIN SPECIFICATION:
· Patented ReflexÔ Tri-Hull design.
· Twin outer sponsons, ride making and wave piercing centre hull.
· Advanced composite construction using KevlarÔ fabrics & hi-performance resins.
· Littoral shallow draft design, fuel efficient and high stability.
HULL AND DECK CONSTRUCTION:

· Each piece constructed using KevlarÔ/Glass hybrid fabric, vacuum bagged coring in iso polyester resins.
· Gelcoat or similar barrier coat to hull and deck.
· Positive floatation hull buoyancy chambers and watertight bulkheads.
· Heavy-duty horizontal and vertical rub/chaffing/fendering rails as required.
· Craft constructed to meet or exceed Transport Canada Marine Safety Regulations TP 1332 (Construction Standards for Small Vessels.)

DECK FEATURES AND FITTINGS:
· Long lasting non-skid surface on all horizontal deck surfaces
· Non-skid surface to all access and storage hatches.
· Heavy-duty stainless steel mooring cleats.
· Stainless steel bow chocks and fairleads.
· Anchor Windlass.
· Stainless steel flag pole socket.
· Moulded storage lockers with sealed gaskets.
· Assorted grab rails.
· Moulded access door to rear swim platform
· Stainless steel handrails around ship with forward pulpit.
· Powder coated alloy radar-bridge over wheelhouse.
· Assorted seawater deck drains
· Rear swim platform.
· Stairs for divers to easily access the water and re-board.
· Stateroom accommodation with up to 6 berths, vanity, closets and seating.
· One Captain's stateroom with 1 berth, vanity, closet and seating at wheelhouse.
· One mess area with table, seating, lockers, shelving & area for TV, CD, & PC.
· One main bathroom with shower, toilet and washbasin.
· Full galley with fridge, freezer, stove, microwave oven, sink with shelves and drawers.
· Laundry area with washing machine and dryer. Shelves and storage lockers.
WHEELHOUSE:
· Open-plan wheelhouse with all round visibility and adequate counter tops.
· Aluminum framed windshield and side windows.
· Aft seating area for observers.
· Captain style seating for helmsman and crew.
· Hydraulic steering system (with manual back-up) and marine wheel at console.
· Angle dashboard for easy reading of instruments.
· Full engine instrument cluster per engine.
· Master kill switch.
· Clear-view screen in windshield at helmsman's position.
· Windshield wiper to forward windows.
· Marine autopilot.
· Electronic compass.
· Chart table with shelving for books, drawers for maps and a map light.
· Radar. (One in wheelhouse.)
· GPS.
· Labelled switch panels for AC/DC internal & external lighting with transparent covers.
· Wind speed indicators.
· Marine air horn.
ENGINES:
· 2 @ 340 hp GM Peninsular turbo diesels. (One in each sponson)
· 2 Konrad outdrives.
· Composite jackshaft to between main engines and drives.
PLUMBING:
· 200 gallons of fuel in 2 stainless steel tanks adjacent to engines.
· Flush mounted fuel hatch with access to fuel shut-off.
· Bronze fuel valves, marked fillers and vents, separators, etc.
· 50-gallon fresh water tank with deck filler.
· Deck shower with electric suction pump.
· Automatic heavy-duty electrical bilge-pump system.
· Manual back-up bilge pumps.
ELECTRICAL:
· 220 V 50 hertz ships electrical system.
· 220-110V switchable shore power system, socket and 50ft cable.
· 100 hp Marine generator to centre hull.
· AD and DC lighting throughout the ship.
· Heavy-duty electric windshield wipers. (See above)
· Separate battery boxes engine and ship's batteries.
· 2 Marine batteries for ships system.
· 2 Marine batteries for engine start system.
· Battery charging from engine alternators, shore power.
· Main breaker panel.
· Coast guard approved Nav. Lights
· Courtesy lighting.
· Cockpit lighting.
· Electrical grounding system.
· Sacrificial anodes as required.
STANDARD EQUIPMENT:
· Mooring lines.
· Anchor, galvanized anchor rode and nylon line.
· 2 boat hooks.
· 4 fenders
FACTORY OPTIONS:
· Marine grade AM/FM radio, CD player and speakers (installed)
· Assorted spotlights
· Deck safety line system.
· Assorted NAV packs – (VHF, depth sounder, compass)
· GPS, Night vision, equipment.
· Communication equipment.
· Assorted towing, mooring and heaving lines.
· Beaching chaff strips to hull bottoms.
· Assorted safety equipment as specified.
· 16,000 BTU central air conditioning system to all cabins, and steering space.
· Advanced fire-fighting system throughout ship with fire and smoke detectors.
· 120 Used oil tank with deck suction system
· Automatic de-sanitization system with replaceable filters.
· VHF Radio for communication.
· Sonar.
· Measuring device.
· Instruments to measure external air and seawater temperature.
· Loudspeaker system with microphones.
Notes:
This specification is a suggested list of items to be reviewed and modified to suit customer requirements.
All items proposed and listed can be met and supplied by the builder however the builder must approve the final specification with customer changes.
Kevlar

is a registered trademark of E.I.DuPont de nemours Inc.
Reflex

and RAM are registered trademarks of Reflex Advanced Marine Corp.
The Reflex tri-hull design and manufacturing system is Patented in the United States and pending in Canada.
The craft will be supplied with full operational manuals, individual manuals for each item fitted or supplied including warrantees.
Date Issued: June 15, 2004