De-Listed - Research Vessel
---
This research Vessel was originally built under Military specifications in Yugoslavia in 1987 and is now under the Spanish Flag. She was re-built in 1996 and again 2003 by the present owner. The information below is extensive. The owner says she is in excellent condition and available for inspection near Spain. She has accommodations for 8 crew and 12 Scientists.
VESSEL IDENTIFIER: EVA10
Price: EUROS 2,100,000.00 FIRM
PARTICULARS

Feet
Meters
Length
118
36
Breadth
29.5
9
Draft
8.2-9.8
2.5-3
Speed
10 Knots
Fuel Consumption
Equipment
Main Engine

MAN BW 9L 20/27 900 KW 1224 CV

Propulsion

2 Rolls Royce Aquamasters

Generator

3 units Scania 230 CV 220V 50 HZ
1 unit Famos 150 CV 220 V 50 HZ
1 unit Deutz 15 KW 220 V 50 Hz

Bow Thruster
Fuel Capacity
40 Cubic Meters
Range
Water Maker
6 M3 per 24 Hrs. at 300 PPM
Water Tanks
36 Cubic Meters
Air conditioning
Yes, Independent Areas
Crane
6 Tons
Air Compressors
Two
TRB: 365 Tons
Free area in deck For diverse auxilliar equipments and two 20" containers
Auxilliar boat Polar Circle 7 m with a 150 CV engine. With plotter echosounder and VHF SIMRAD 8400
Electronics:

Autopilot Simrad Robertson AP50
Radar 1 Furuno Mod. FR 1505 Mark 2
1 Simrad Mod. CR 50
Plotter – GPS Simrad CR 50
VHF DSC Sailor
VHF Simrad 8400
Radio USB Furuno
AIS Simrad
Mini M Nera 00871763059860
GSM Phone Yes
Echosounder of navigation
Navtex ICS
Gyrocompass with 4 repeaters
<![if !vml]>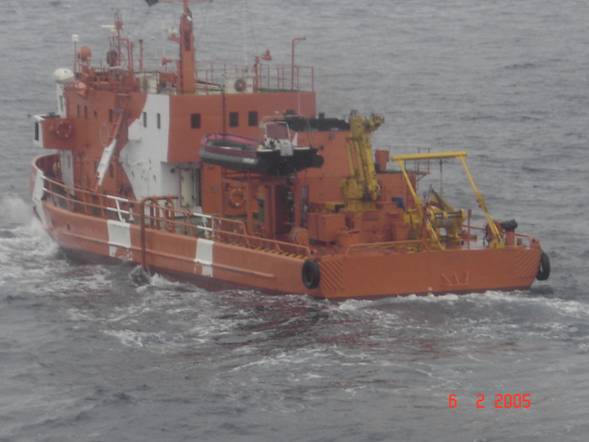 <![endif]>
Resources:
Echosounder multibeam Simrad EM 3000

Echosounder multibeam Reson Seabat 8160 depht water 3000 m

Fish Echosounder Koden 8826 dual frequency

Echosounder Atlas 9205

Side Scan Sonar Klein 3000 dual frequency

Plotter 3D OLEX

Doppler ADCP RDI Workhorse Long ranger 75 Khz

Post process room with equipments in racks, processors and TFT screens

Projection / work / meeting /rest room

Post process software:
· Merlin
· Neptune (I'ts possible the postprocess the Reson raw data in Neptune and integrate it with the EM3000, then when the data from both echosunders are combined in C-Floor the result could be a bathimetry since 0 to – 3000 m. We can send samples.)
· Poseidon
· Triton
· C-Floor
· PDS 2000
· CDI
· Sonar Pro
· Sonar web
· Klein
· Valeport
Printers and Plotter HP desiggjet 800 DIN A1

General Control Video system with 6 cameras (1 domo)

DGPS Trimble 5700

SEA PATH 200

Motion sensor MRU

Sound velocity sensor

CTD Valeport Midas 606+ Titanium (6.000 m), three possibilities for work stand alone (recording data), with data in real time and inserted in the ROV with data in real time Sensors:

Pression

Temeperature

Turbidity

Fluorometer

Disolved Oxigen

PH

Redox

Sound speed

Salinity

Radiation PAR

Conductivity
· ROV Seaeye Falcon for 300 Metres depth and 400 metres cable with broadcast video camera and manipulator support and communication for the Valeport CTD with transmission of sampling data in real time, and DVD recorder.
Oceanographic winch with two reels, one for the ROV cable and other for 1500 metres cable 10 mm Ø.

Complete diving equipment with compressor, tanks, regulstors, jackets, computers.

Video Camera 3 CCD with underwater equipment

Underwater digital photo cameras

Space for dry and wet laboratory
<![if !vml]>
<![endif]>
<![if !vml]>
<![endif]>
<![if !vml]>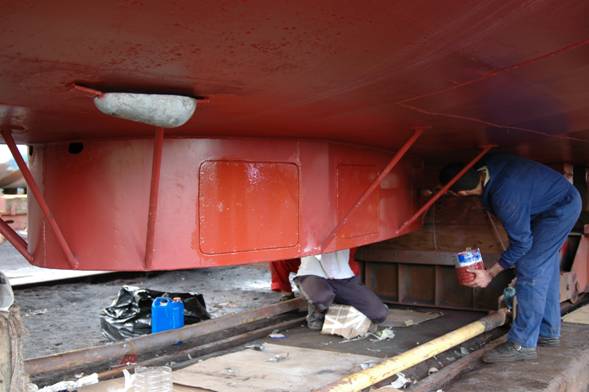 <![endif]>
RESON SEABAT 8160
Description



<![if !vml]><![endif]> Swath coverage greater than 4 times water depth

<![if !vml]><![endif]> Operational depth: 10m to 3000m

<![if !vml]><![endif]> 50 kHz frequency

<![if !vml]><![endif]> 126 beams

<![if !vml]><![endif]> Hull-mount or portable

<![if !vml]><![endif]> Meets IHO special order accuracy

<![if !vml]><![endif]> Sidescan upgradable
<![if !supportLineBreakNewLine]>
<![endif]>

................................................................................ ........................................................

The SeaBat 8160 can be used in the following application areas:
Hydrographic Surveying, Pipeline & Cable route Surveying, Continental Shelf Mapping



The SeaBat 8160 is a new addition to the 8100 series of multibeam echosounders. Operating at 50 kHz, the system ensonifies the whole swath in a single ping, generating 126 simultaneous high-resolution receive beams.

The SeaBat 8160 transducer array is comprised of a linear receive and transmit array mounted together on a support base. The t-shaped array geometry provides the basis for a compact, high-resolution sonar which is easily installed for portable or hull mounts - a first for a high-resolution system in this frequency range.

The system features a pitch-stabilized transmitter and, with the optional 6042 controller, a roll-compensated receiver.

The SeaBat 8160 processor is compatible with other SeaBat sonar heads. It can be updated in minutes to accommodate future requirements, and features a user-friendly point-and-click interface.

Frequency:

50 kHz

Depth Resolution:

2.4 cm / 9.6 cm

Swath Coverage

Greater than 4x water depth

Max Operational depth:

3000 m

Number of beams:

126

Along-Track Beamwidth:

1.5°

Across-Track Beamwidth:

1.5°

Pitch Stabilization:

+/- 10°

Accuracy:

IHO Special Order

Operating Speed:

Up to 20 knots

Max. Update Rate:

15 times/sec

Transducer depth rating:

100 m
<![if !vml]>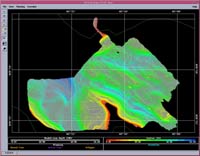 <![endif]>EM 3000S Multibeam echosounder
EM 3000S multibeam echosounder is a short range, high resolution echosounder with up to 127 narrow beams of 1,5 x 1,5 degrees, and a sounding accuracy which satisfies the requirements for IHO S-44 special order surveys.
Suited for portable use
The system is suited for portable use, and is easily plugged together, calibrated and set to work. The sonar head is made of durable and non-corrosive titanium. The swath coverage is up to 4 times the distance from the transducer face to the bottom, and the flat faced horizontal transducer produces data which is very robust towards local variations of the sound velocity profile in the water. The system is thus well suited for mapping difficult areas like estuaries and river outlets, as well as rivers, canals, harbors, harbor entrances and coastal regions.
EM 3000S Multibeam echosounder mounting
Portable mounting arrangements can be offered. EM 3000S multibeam echosounder can be fitted to ROV's and towed sensor platforms, using fiber optic data communication. A special version can be offered for UUV's. Maximum deployment depth is 1500m.
SIDE SCAN SONAR KLEIN 3000
THE DIFFERENCE IS IN THE IMAGE
The new System 3000 presents the latest technology in digital side scan sonar imaging. The simultaneous dual frequency operation is based on a new transducer design as well as the high resolution circuitry developed for the Klein 5000 multi-beam focused sonar. The System 3000 performance and price is directed to the commercial, institutional, and governmental markets.
<![if !vml]>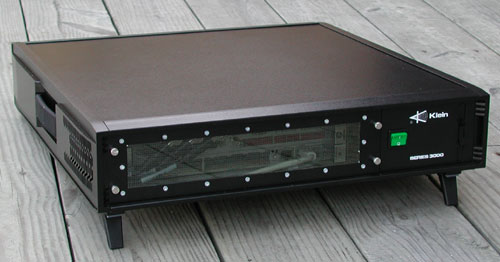 <![endif]>
TPU Topside Unit
<![if !vml]>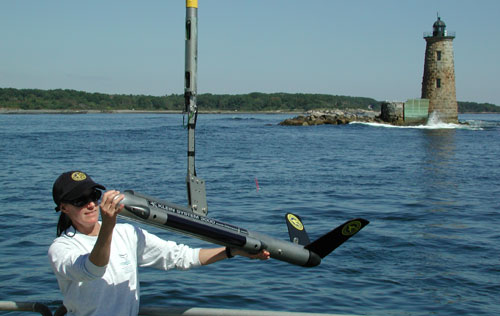 <![endif]>
3000 Towfish Deployment
ADCP RDI LONG RANGER
<![if !vml]><![endif]>

Workhorse Long Ranger - Self-Contained ADCP™

---

<![if !vml]><![endif]>

<![if !vml]><![endif]>

| | | |
| --- | --- | --- |
| Mode | Reach | Bin Size |
| Broadband | 510m | 32m |
| Long Range | 600m | 32m |

S

entinel is Teledyne RDI's best-selling ADCP™ (1000 Sentinels in 50 countries). Now there's Long Ranger, a Sentinel-inspired instrument for long range, long duration autonomous deployments - up to six months for long range profiling of up to 600 meters. Patented (and proven) signal processing techniques used in Teledyne RDI's BroadBand ADCPs™ ensure the degree of reliability that gives the peace of mind you need in long-term, deepwater data collection programs.
VALEPORT 606+
| | |
| --- | --- |
| MIDAS CTD+ Multiparameter Profiler | |
| <![if !vml]><![endif]> | The MIDAS CTD+ is a revolutionary Multiparameter CTD, with a wide choice of standard sensors. Featuring Valeport's latest 400 Series electronics, the CTD+ will sample all fitted sensors at exactly the same instant, at up to 8Hz. Advanced setup software allows a variety of sampling regimes including burst modes, delay starts, and conditional sampling. With up to 32Mbyte memory and internal battery pack, as well as a selection of real time output formats, the CTD+ is perfect for both profiling or fixed mooring applications. In addition, the CTD+ may be used with Valeport own water bottle carousel. |
Valeport applies its unique distributed processing technology to the M CTD+ (formerly known as the Model 606+), resulting in a multi-parameter CTD that is essentially tailor made to suit each customer's requirements. The instrument is able to accept any combination of a range of industry standard sensors, giving calibrated data in both autonomous and real time operations. A choice of titanium or acetal construction makes it suitable for coastal or deep water operations, and the intuitive software allows a range of both simple and complex sampling regimes.
IDAS
As part of our policy of continuing development, we reserve the right to alter at any time, without notice, all specifications, designs, prices and conditions of supply of all equipment. Datasheet Reference Number: M CTD+ v1A IDAS Sensors The M CTD+ is fitted with CTD sensors as standard, plus your choice of optional additional sensors, either remote or bulkhead mounted. The CTD+ can also operate with Valeport's water sampler system, described on a separate brochure. Other sensors also available - please consult Valeport. IDAS Sensor Type Range Accuracy Resolution Conductivity Inductive Cell 0 - 80mS/cm ±0.01mS/cm 0.002mS/cm Temperature PRT -5 to +35°C ±0.005°C 0.002°C Pressure Strain Gauge Up to 500Bar ±0.04% 0.005% Pressure Quartz To 10000psi ±0.01% 0.001% max Turbidity Seapoint STM 0 - 2000FTU ±2% 0.002% DO Clark Cell 0 - 16ml/l ±0.07ml/l 0.017ml/l pH Electrode 2 - 12 ±0.05 0.01 ORP(Redox) Electrode ±1500mV ±1mV 0.1mV Chlorophyll Fluorometer 0 - 150µg/l ±0.03µg/l 0.005% PAR LICOR 10,000 ±1% 0.5µmol/s/m² µmol/s/m² Data Acquisition Memory
The M CTD+ uses the concept of distributed processing, where each sensor has its own microprocessor controlling sampling and calibration of readings. Each of these is then controlled by a central processor, which issues global commands and handles all the data. This means that all data is sampled at precisely the same instant, giving superior quality profile data. It also allows additional sensor to be added or replaced in the field, without the need for factory recalibration. Regular output from all sensors at 1, 2, 4 or 8Hz. Regular sampling pattern, where instrument takes a number of readings, then sleeps for a defined time. Data is output as a chosen parameter changes by a set value, usually Pressure for profiling. Instrument sleeps until a selected parameter reaches a set value. Instrument sleeps until predefined start time The M CTD+ is fitted with 8Mb solid state non-volatile FLASH memory. Total capacity depends on sampling mode; continuous & burst modes have a single time stamp at the start of the file, trip mode (profiling) stores a time stamp with each reading. Each parameter uses 2 bytes per sample and a time stamp uses 7 bytes. The examples are for an instrument measuring CTD and 3 other parameters. 695,000 data points 430,000 data points (30 profiles to 6000m).
IDAS
Continuous:
Burst:
Trip/Profile:
Conditional:
Delay:
Continuous:
Profile:
Electrical
Communications
Physical Software Ordering
Internal:
External:
Power:
Battery Life:
Connector:
RS232
RS485
RS422
FSK
USB
Baud Rate:
Protocol:
Materials;
Depth Rating:
Instrument Size:
Weight:
Shipping:
8 x D cells, 1.5v alkaline or 3.6v lithium
9 - 30vDC
1.7W (sampling), <1mW (sleeping)
100 hours operation (alkaline)
250 hours operation (lithium)
Subconn Titanium MCBH10F
The instrument will operate autonomously, with setup and data extraction performed by direct communications with PC before and after deployment. It also operates in real time, with a choice of communication protocols for a variety of cable lengths, some fitted as standard and selected by pin choice on the output connector:
Up to 200m cable, direct to serial port.
Up to 1000m cable, addressable half duplex comms
Up to 1500m cable, addressable full duplex comms
2 wire power & comms up to ~3500m cable (maximum cable length depends on cable specification - consult Valeport for confirmation)
For rapid upload or laptops without serial port 2400 - 115200 (FSK fixed at 19200, USB 460800) 8 data bits, 1 stop bit, No parity, No flow control
Titanium or acetal housing, polyurethane & acetal sensor components, stainless steel cage 6000m (Titanium), 500m (acetal) 150mmØ x 590mm long 15kg (titanium), 9kg (acetal) 860 x 530 x 310mm, 31kg (titanium),25kg (acetal) System supplied with DataLog 400 Windows based PC software, for instrument setup, data extraction and display. DataLog 400 is licence free.
Standard Options
0606002 MIDAS CTD+ (specify titanium or acetal), supplied with 3m communications lead, software, manual and transit case. 0400021 Turbidity sensor 0400017 DO Sensor 0400018 pH Sensor 0400019 Redox (ORP) Sensor 0400023 Chlorophyll Fluorometer 0400025 PAR Sensor
Seaeye Falcon



<![if !vml]><![endif]>

| | |
| --- | --- |
| <![if !vml]><![endif]> | |

Seaeye Falcon Features:

300 metre depth rating, 16 kilo payload

Magnetically coupled brushless DC thrusters with velocity feedback loop

4 Vectored and 1 vertical thruster

50 kgf thrust with 1:1 power to weight ratio

Distributed intelligence control system

Integral system diagnostics

High resolution colour camera on 180º Tilt Platform

Variable intensity 150 watts of lighting

Auto heading, depth, compass and rate gyro

Portable surface control system with video overlay and daylight readable display

Low drag umbilical

Single phase A/C power input - universal 100-270 VAC at 2.5 kw

Introduction

Seaeye Falcon is the first ROV designed and built by Seaeye Marine to meet the operational requirements of coastal and inshore operators. In developing this system the same criteria of performance, reliability and ease of operation were set but with the added challenge of creating a system that was to be portable and affordable.

<![if !vml]><![endif]>
Seaeye Falcon & its Surface Units

The Seaeye Falcon incorporates many of the features that have proved so successful in other Seaeye ROVs but with a number of technical innovations never before seen in a lower cost ROV. The Seaeye Falcon sets a new standard for inshore and coastal operations to 300 metres depth.

THE VEHICLE

Vehicle Specifications

Maximum Working Depth

300 msw

Length

1000 mm

Height

500 mm

Width

600 mm

Launch Weight

50 kg or 62 kg with additional buoyancy module fitted

Thrust Forward

50 kgf

Thrust Lateral

28 kgf

Thrust Vertical

13 kgf

Payload

4 kg or 16 kg with additional buoyancy module fitted

<![if !vml]><![endif]>

Chassis
Seaeye Marine was the first company to introduce polypropylene for the construction of an ROV chassis and this material is used for the Seaeye Falcon. Polypropylene is extremely rugged, maintenance free, non-corroding and self-supporting in seawater. Additional equipment may be bolted directly onto the chassis members. All fittings and the lift point are manufactured from 316 stainless steel. The core frame is manufactured using modern composite materials.

Buoyancy
Buoyancy and payload is primarily controlled by the addition or subtraction of closed cell foam blocks secured to the chassis below a quick-release, hydrodynamic polypropylene shell. (The shell also encapsulates all Falcon's electronics housings and provides protection for cabling). Mounting points on the vehicle skids are provided for lead ballast to facilitate trimming of the vehicle's centre of gravity and buoyancy.

Propulsion
All Seaeye ROVs feature brushless DC thrusters, which, apart from having the greatest power density, have drive electronics with velocity feedback for precise and rapid thrust control. These thrusters are interfaced to a fast PID control system along with a solid-state rate gyro for enhanced azimuth stability, a feature that automatically prevents overshoot on a change of heading. These essential building blocks enable Seaeye Marine to provide superior control and response from their powerful ROVs, setting them apart from the competition. The innovation for Seaeye Falcon was the development of a Magnetically Coupled brushless DC Thruster unit (MCT1) capable of resisting higher torque loads than competing units. Seaeye Falcon is powered by 5 Seaeye Magnetically Coupled Thruster units (MCT1) each capable of achieving 13 kgf thrust at 320W or a combined forward thrust (bollard pull) of 50 kgf. For an ROV weighing only 50 kilos this represents an impressive 1:1 power to weight ratio.

<![if !vml]><![endif]>
MCT1 Thruster Performance

These thrusters run cool without being oil filled and having no moving shaft seals, are low maintenance, extremely reliable and ideal for use in sensitive areas such as fisheries and on reefs.

Thruster Configuration

4 Vectored Horizontal Thrusters

1 Vertical Thruster

Thruster vector angles can be changed by the operator to reconfigure the vehicle to best suit the particular mission requirements.

<![if !vml]><![endif]>

Control System
The Falcon is the first Seaeye ROV to enter production with a distributed intelligence control system. This is a multi-drop network which allows up to 128 devices to be connected together on a single RS485 serial network. Each device connected to the network, be it a thruster, light, compass or a future option, contains a microprocessor and interface electronics and is called a 'node'

<![if !vml]><![endif]>

<![if !vml]><![endif]>

These 'nodes' are controlled by a master processor in the Surface Unit and are fully isolated to maximise system reliability. Each node is connected to the Network's Star Point at the ROV junction box. The Star Point is a printed circuit board that provides each node with its own fused power supply and telemetry.

This modular approach eliminates the need for a complex central electronics pod and significantly reduces the number of subsea connectors used. The result is a very flexible modern and simplified system architecture designed to improve reliability and ease of maintenance.

Control System Diagnostics
A software routine automatically checks each node when the system is powered up with alarms provided on the video overlay to alert the operator. Local diagnostics are also provided for each node in the Junction Box. A test button is provided with colour coded LEDs that confirm green if the fuse is intact or red if it is blown on a particular node. A further LED indicates the presence of telemetry to the node.

The ROV Junction Box
The one atmosphere junction box contains the Network Star Point and the video line-driver. The line driver allows quick and easy 'gain' adjustments to be made if differing umbilical lengths are to be used. A standard bulkhead connector is used to connect each node to the Network Star Point at the junction box.

Camera System
Seaeye Falcon is fitted with a tilt platform and high-resolution colour camera as standard. The tilt platform makes provision for additional industry standard cameras to be fitted.

Standard Camera Specification

Camera Resolution

480 TVL

Min. Scene Illumination

0.2 LUX (F1.4)

Pick Up Device

1/2 Inch CCD Image Sensor

Lens

1/2" Aspherical 3.8mm lens,
wide angle fixed focus

Horizontal Field of View

91°

Tilt

±90°

Lighting
Two, individually fused, 75 watt Tungsten Halogen lamp units are fitted each with their own remote brilliance control. The lights are powered at low voltage, to improve reliability and longevity.

Navigation System & Auto Functions
Seaeye Falcon's navigation sensors and aids are housed in a single hardened aluminium pod. A compass is provided for heading information and a solid state rate gyro for auto heading control. A depth sensor provides depth information in feet or metres on the video overlay as well as control of auto depth.

Specification

Compass Accuracy

±2°

Depth Sensor Accuracy

±0.5% of FSD

Gyro

0.1 °/s

Surface Update Rate

<40 mS

<![if !vml]><![endif]> <![if !vml]><![endif]>

SURFACE EQUIPMENT

Power Requirements
Single phase "Universal Input" of between 100VAC - 270VAC at 2.5kw.(Compatible with generators fitted with auto voltage regulation).

Standard Surface Unit
The Falcon's power supply unit, processors and video systems are rack mountable and supplied in portable enclosures. The power supply unit provides a galvanically isolated 500VDC output protected by a L.I.M.. All equipment is fitted into a transit case complete with handles and heavy splash-proof covers.

<![if !vml]><![endif]>

<![if !vml]><![endif]>

Surface Units can be arranged
horizontally or ...

vertically

Transport Case 1

Transport Case 2

Surface Power Supply Unit
& Surface Control Unit

Monitor &
Keyboard Draw

Height

444 mm

444 mm

Width

514 mm

514 mm

Depth

674 mm

604 mm

Weight

64 kg

28 kg

Standard Hand Control Unit
Falcon's Standard Hand Control Unit (HCU) is formed within a rugged case and contains all the ergonomically designed vehicle controls.

<![if !vml]><![endif]>
Seaeye Falcon hand controller & 5 metre lead

Dimensions

Height

180 mm

Width

280 mm

Depth

120 mm

Weight

0.5 kg

Vehicle Controls
The following Seaeye Falcon controls are provided:
Single 3 axis joystick for horizontal vehicle control
Rotary control for vertical thruster power UP or DOWN
Rotary control for lights intensity
Auto pilot functions for both heading & depth.
Vehicle power switches
Auxiliary vehicle controls (including manipulator)

Video Overlay
A video Overlay system is incorporated as standard providing the following information to the pilot:

Compass heading

Depth

Camera tilt position

Auto pilot function status

Tether turns counter

Free Text using a QWERTY keyboard

UMBILICAL CABLE
A choice of neutrally buoyant in fresh water or thinner, slightly heavy umbilical cable is offered. These light weight proprietary jacketed cables offer high abrasion resistance with strength provided by a Vectran strain member.

Specifications

Diameter

11 mm

13.1 mm

Breaking Strain

525 kg

530 kg

Weight in air

100 kg/km

134 kg/km

Weight in seawater

7.3 kg/km heavy

Buoyant

Weight in fresh water

Heavy

Neutral

Minimum bend radius

150 mm (Dynamic)

197 mm (Dynamic)