SOLD - Refrigerated Cargo Ship
---
The next SS/DD for this vessel is August, 2003, having completed her intermediate survey in Durban 8/01. She is currently trading in South Africa where she can be inspected on arrangement. She is able to carry Fish, Meat and fruit. She has 83,800 Cubic Feet of refrigerated cargo capacity in three holds.
VESSEL IDENTIFIER: LSC10
Price: U.S. $850,000.00 PRICE REDUCED TO US$775,000.00 FIRM
DIMENSIONS

Feet
Meters
Length
298.4
90.98
Breadth
44
13.42
Draft
17.5
5.35
Speed
12 Knots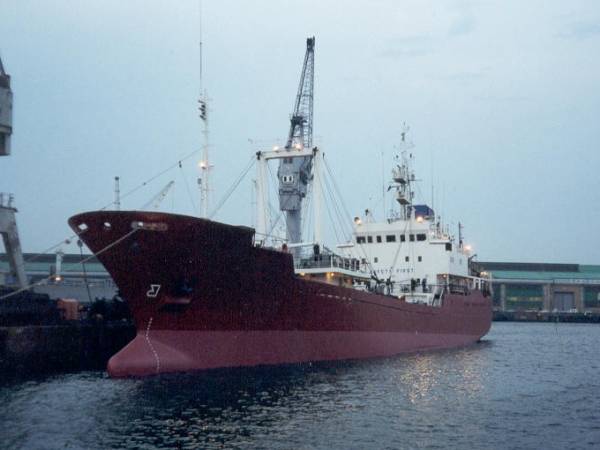 PARTICULARS
Flag
Year Built
1980
Where Built
Registry
Class
PRS
Poliski Rejestr Statkow
Deadweight
1,927
Gross Registered Tons
2,297
Cargo Capacity
83,800 Cubic Feet
Cranes
3 Pair - Derricks 3 Tons x 2
Last Dry-docked
Durban 8/01
MORE INFORMATION BELOW
Power

Main Engine

Sultzer 6ZL40/48 Manufactured by Z.U.T. (Skoda) 3,091 KW @ 530 RPM

Generators

3 - Sultzer 6AL 20/24
Fuel Consumption
at 12.2 knots Abt. 7.5 tons
at 12 Knots about 7 tons per day
at 11.5 Knots about 6.8 tons/day
IFO100/day at sea
Refrigeration
3 - Howden
Q62,000 KKA/H
One Compressor running consumes abt. 2 tons/day MDO.