SOLD - Fishing Vessel
---
This is an un-licensed Wooden Canadian seine boat equipped with a rsw-brine system, full electronics, and full hydraulic package. Note drum and tilt ramp have been removed and sold to American interests. Vessel is excellent for a deck seine or packer or renovate for a live aboard. Vessel is also with a full Kort Nozzle. This is an ocean going vessel that is fully ballasted. Since the beginning of the year 2002 we have installed a new main engine and fully caulked the complete hull and just completing the full maintenance package re painting etc.
VESSEL IDENTIFIER: MGW12
Price: U.S. $110,000.00
DIMENSIONS

Feet
Meters
Length
58
17.6
Breadth
20
6
Draft
9.5
2.89
Speed
10 Knots
Range
200 Continuous Hours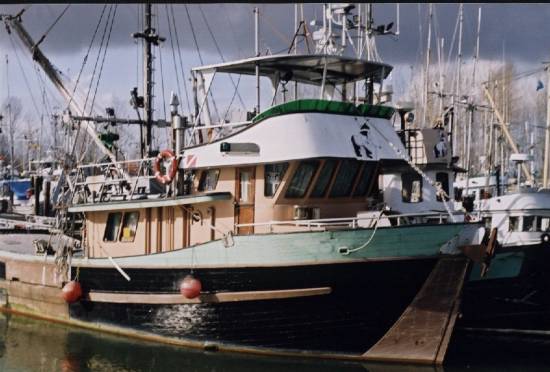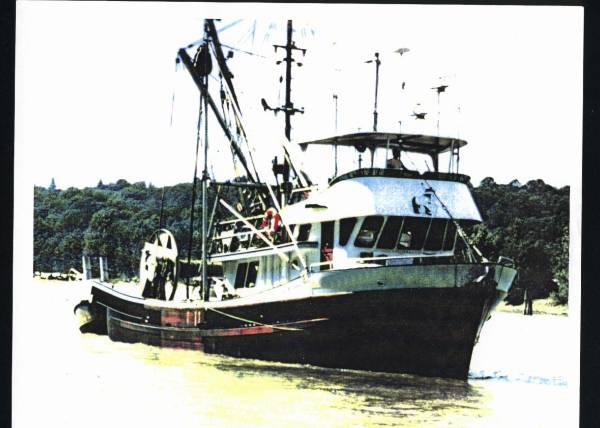 PARTICULARS
Flag
Canadian
Year Built
1979
Where Built
Western Canada
Class
Yes
Certificates
Registered Blue Book
GRT
48.44
Cargo Capacity
50 Tons
Last Dry-docked
Jan 2001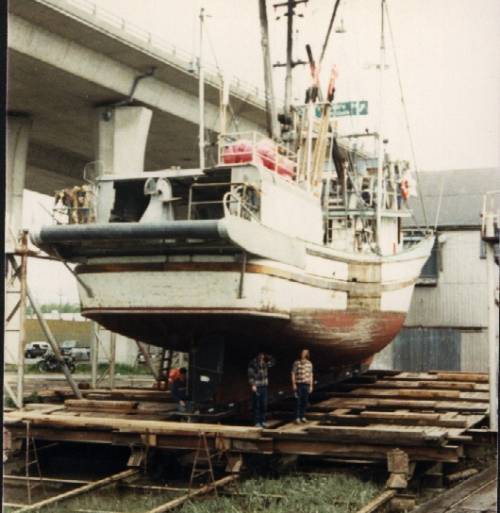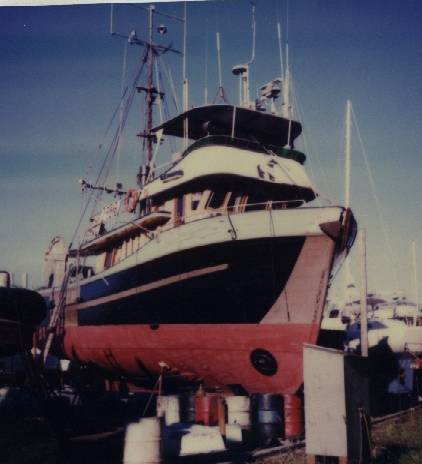 Power

Main Engine

Cummins NPT850 - 335 HP NEW
Generators
6-354 Perkins Auxiliary
Bow Thruster
YES
Fuel Capacity
2,000 Gallons
Hatch Depth
6.4 Feet
HULL:
TYPE VESSEL: EX SEINER & LIVE ABOARD
GROSS TONS:90 DFO 16
NET TONS: 48.95
BUILDER: TRISTAR MARINE
BUILD AT: MAPLE RIDGE BC
OFFICIAL NUMBER: 391855
HULL CONSTRUCTION: WOOD
CABIN CONSTRUCTION: WOOD & FIBERGLASS & ALUMINIUM
MACHINERY:
ENGINE: 335 CUMMINS NPT 855
H.P.:335
HOURS:0 SINCE O/HAUL
REDUCTION GEAR:TD 514 OMEGA
VOLTAGE:32-12-110 CONVERTER
BATTERIES:4-8D 8 VOLT 1-12 VOLT (ALL NEW JAN 2000)
AUXILIARY MOTOR:PERKINS 6354 135 HP
FUEL CAPACITY:2000 GAL
NO OF TANKS:4
WATER CAPACITY:800 GAL
NO OF TANKS:1
STEERING:WAGNER
NO OF STATIONS:2
PURSING WINCHES:1 HARRISON & ROBBINS SOLD
ANCHOR WINCH:SEA-TEC HYD
LINE CAPACITY:100 FTM OF 3/4 WIRE
20 FTM CHAIN
PROPELLER SIZE:50X31 4 BLADE
SPARE PROP:NO
KORT NOZZLE:YES
SHAFT SIZE:3 1/2 INCH
MATERIAL:STEEL MONO
BOW THRUSTER:YES 16IN IN BOW
DECK EQUIPMENT:
MAST:ALUMINIUM SCHEDULE 80
BOOM: 30 FT ALUMINIUM - OFFER PENDING VANGING
DECK WINCH:PURSING WINCH SOLD
GEARMATICS:SINGLE FALL VANGING & TOP LIFT ALL HYDRAULIC
HOLD TYPE:INSULATED & GLASSED
4 WATER TIGHT TANKS
ELECTRONICS:
VHF:OKI (TWO)
SSB:SCANNING AUTO
SOUNDER RECORDERS:( 2)
LORAN:AUTO TRACK
RADAR:OKI (2)
WIND INDICATOR:YES
AUTO PILOT:WAGNER MARK IV
SONAR:WESSMAR 165
OTHER:SCANNER - RECIEVE YASU SET
SAFETY EQUIPMENT:
LIFE RAFTS:N/A
LIFE BOAT:12 FT DAVIDSON SOLD
LIFE RINGS:2 WITH STROBES
OTHER:LIFE JACKETS (6)
LAST DRY DOCK:JAN 2000
LAST SURVEY:JAN 2000
PUMPS:HYD (2) MANUAL DECK - ELECTRIC RULE MASTERS (3)
FIRE HOSES: ( 4) - HYD -MANUAL
FIRE EXTINGUISHERS: SEVERAL THROUGHOUT VESSEL
ALARM SYSTEM: DUALS
ACCOMMODATIONS:
GALLEY: FULL RIGGED SEATS 7
FRIDGE:FREEZER FRIDGE COMBO
STOVE:Y-18 OIL WITH HEATER COIL
NO OF STATEROOMS:1 CAPTAIN
NO OF BERTHS:6
SHOWER:ENCLOSED
HEAD :ENCLOSED FLUSH TOILET
HOT WATER: 35 GAL TANK PRESSURIZED

STATUS:
Vessel dry docked Jan. 2001 and hull recaulked - zincs - copper painted all under water service completed including welding. Vessel is easily converted to live aboard - packing - or return to fishing. Upper hull all above the water line is completed caulking in Mar. 2002. Total hull now caulked. Preparation is being made for live aboard facilities.
New engine installation Sept. 2001 with completion Oct. 2001. Removal of rsw system and finishing maint. there after.