De-Listed - Truckable Oil Barrier Barges
---
These NEW 40 foot long barges can be connected end to end to make a barrier for inlets and estuaries to help control the problems of surface oil entering the ecosystem. Side connector angles and pins are not on the Barrier Barges as shown in the photos below. The barges have slide in plates the ends of each barge on both sides that overlap the adjacent adjoining barge reducing the passage of surface oil and pollutants past the barges. The barges pin together on the ends and by pinning 10 barges together you can create a 400 foot long barrier to help prevent oil from entering the ecological sensitive area. The barges each have one 8 inch "spud well" on each end allowing the sections to be anchored to the bottom allowing the barges to rise and fall with the tide but keeping them in place in light tidal conditions. They are built in Illinois and Indiana. Each section weighs approximately 18,500 pounds and two barges can be transported on a lowboy truck for transportation to a site and then moved to another site if necessary . They are epoxy coated. The top load capacity for all is approximately 40,000.00 lbs. or 20 tons per barge so if needed, oil collection equipment can be put on the deck of the barge.
The barges are built heavily with 1/4 in platting on the complete barge. The vertical truss buck frames are 18" on center constructed of 3"x3"x1/4" angle. No Bulkheads. All seams below water are welded inside and out all plate joints are butted together not lapped. Barges come sand blasted outside only with 2 coats of coal tar epoxy. All barge section come with one 18" watertight hatch, 2 - 8" spud wells and 3 cleats per section.
If necessary, the barges can be positioned in a modified "V" to funnel the oil to a collection point where skimmers can collect the oil residue.
At the end of the assignment, the barges can be easily lifted from the water and properly cleaned for other use.
NOTE: Photos below are not actual barrier barges.
OPTIONAL SPUDS: 10 FOOT 11 INCH SPUDS ARE SOLD TO ORDER FOR $780.00 PLUS $78.00 PER FOOT.

VESSEL IDENTIFIER: ROS20
Price: $ 16,900.00 Each FOB Indiana or Illinois.
DIMENSIONS

Feet
Length
40
Width
8
Depth
4
Draft
8.5 Inches
WIDER BARGES OF 10 FEET AND 12 FEET CAN BE QUOTED IF REQUIRED.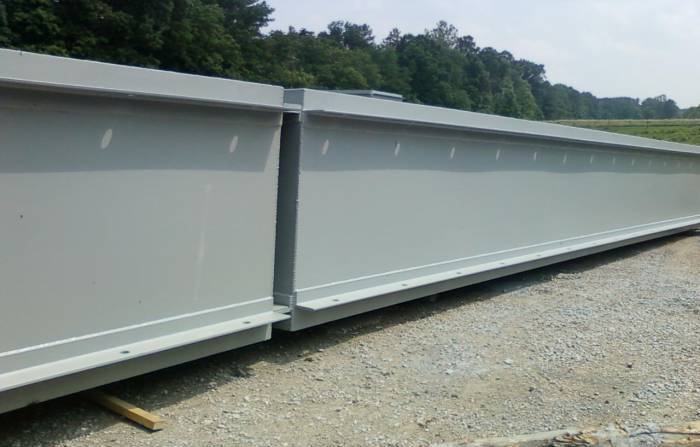 Normal gap between barges without barrier plate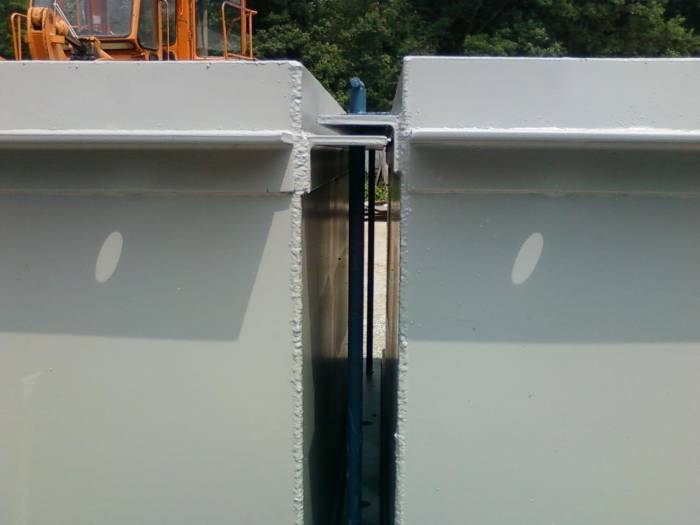 THE TWO PHOTOS BELOW SHOW HOW PLATE IS INSERTED BETWEEN BARGES TO CREATE A BARRIER
In actual application, the plate is larger going up the barge around 3 feet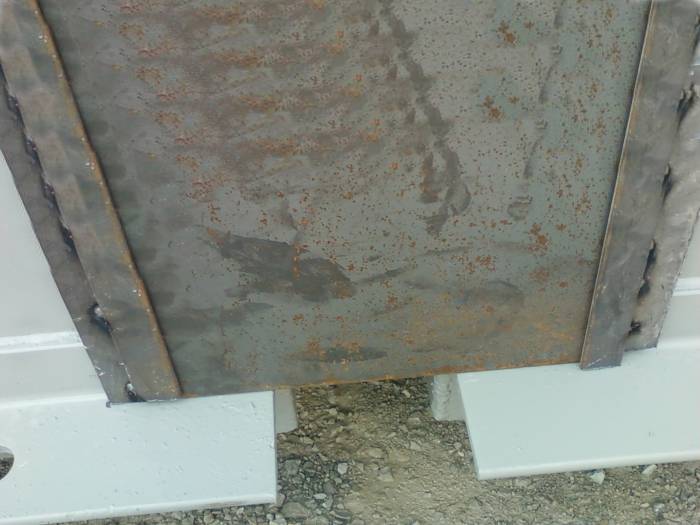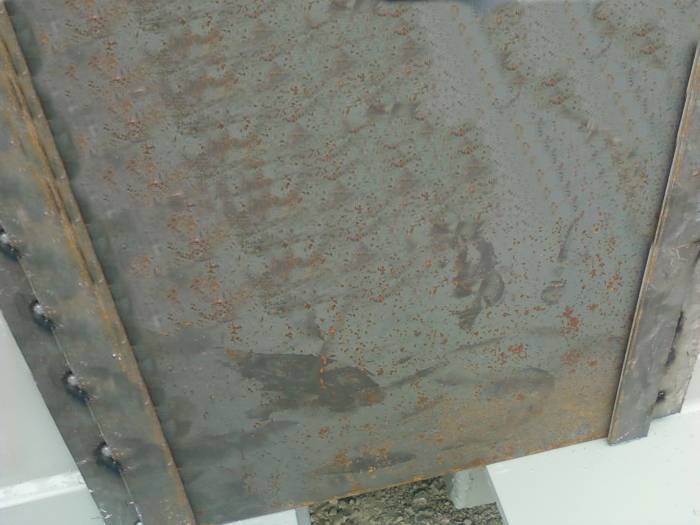 BELOW IS AN EXAMPLE OF THE SIDE PINNING ARRANGEMENTS ALSO ON ENDS OF BARGES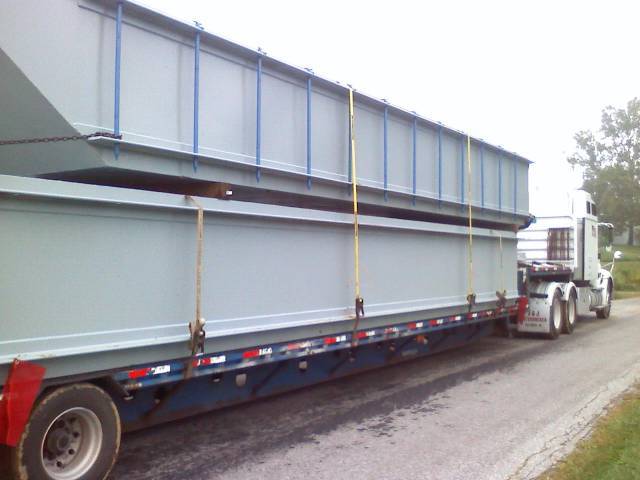 BELOW IS AN EXAMPLE OF BARGES PINNED TOGETHER SIDE BY SIDE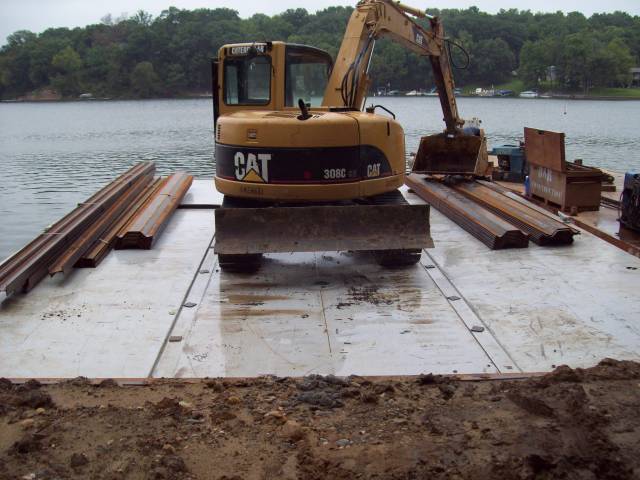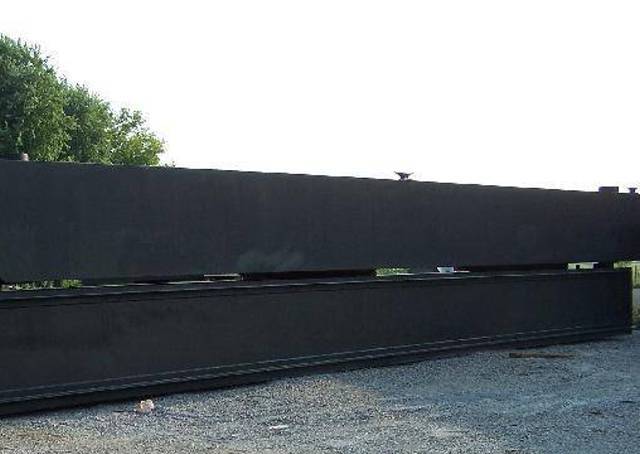 100612