De-Listed - NEW - Truckable Push boat
NOTE: We have a builder for similar tugs, this one went out of business
---
BUILT TO ORDER. This fully equipped new push boat has an Aluminum Construction superstructure. The Push boat can have an optional cabin with bunk beds, shower, head and sink. She has a 21 foot eye level and two 9 foot Push Knees with Johnson rubber on 1/2 inch plate. I have visited the facilities for the construction of the tugs and they do excellent work will surpass your expectations. See another of their tugs SM10. They are very capable of performing other marine construction of vessels so let us know if you need something else for your fleet including longer work tugs, barges etc.
VESSEL IDENTIFIER: SM11
Price: U.S. $
DIMENSIONS

Feet
Meters
Length
25'6"
7.77
Width
14
4.27
Depth
5
1.527
Draft
Speed
Consumption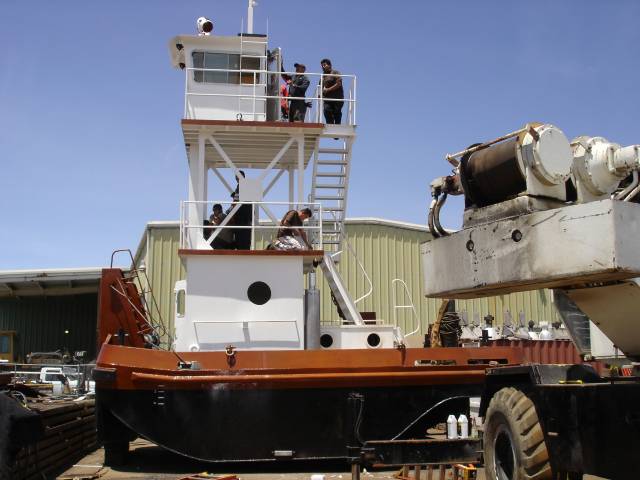 PARTICULARS
Flag
US
Year Built
NEW CONSTRUCTION
Navigation
Perko Running Lights
Location
Class
No

Construction

Hull - 1/4" A36 Steel
Hull in way of Prop 5/15 A36
Super Structure - 3/16" A36
Shipping Weight
LBS.
MORE INFORMATION AND PICTURES BELOW

Power

Main Engines

TWIN
(Standard) John Deere 6081 @ 330 HP Each New

(Options for Standard) Remanufactured CAT 3126 @ 350 t0 385 HP each)

(Additional Cost Options) Cummins QSL9 @ 405 HP Each
Medium Continuous Duty Detroit 60 Series @ 400 HP Each

Transmission

(Standard) Twin Disc. 5075SC @ 2.88:1 or equivalent on request

(Additional Cost Options)
The Larger engines will require different size transmissions Twin Disc. 5095 or ZF 325 with ratios up to 5:1

Propeller
Two - 34" 18" Pitch
Shafts
3" Stainless with Cutlass Bearings
Helm
Manual Hydraulic or Power
Engine Room
Stand up/walk around 7' High
Electric
12 Volt System
Winch
2 - Win Tek or BB
Generator
No
Fuel Capacity
700-850 Gallons
Other Specifications
Deck
Anti-Skid
Voids
Epoxy painted with 18" access
Rub Rail
Schedule 40 Half pipe
Bulwarks
12" high
Frames
18" spacing
Button Chocks
2
Cabin Size
Height: 7'
Width: 9'
Length: 7'
Pilot House Size
Height: 7'
Width: 4'
Length: 4.5'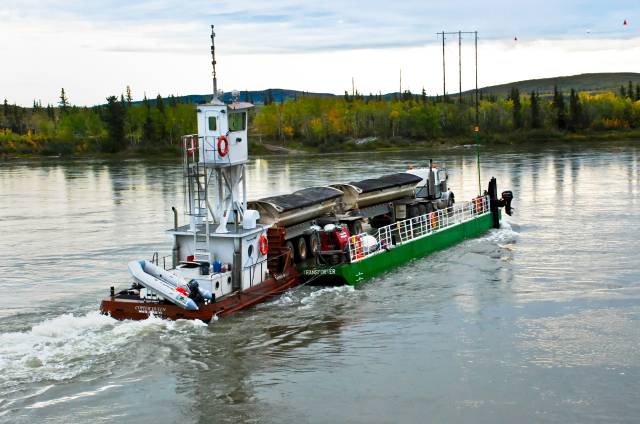 The tug is pushing a 90'x24' barge (6 Sectional barges) with tanker truck