SOLD - Passenger/Car Ferry
---
Please note, if you inquire about this vessel, the owner requires that we pre-qualify the buyer prior to entertaining the inquiry. The vessel complies with 1991 and 1992 Solas requirements except for the GMDSS. The ship has been layed up for 4 years.
VESSEL IDENTIFIER: BRS10
Price: U.S. $ 2,500,000.00 Or Best Offer
DIMENSIONS

Feet
Meters
Length
531.3
162
Breadth
86.8
26.4
Drafts
17
5.15
Speed
20 Knots
Passengers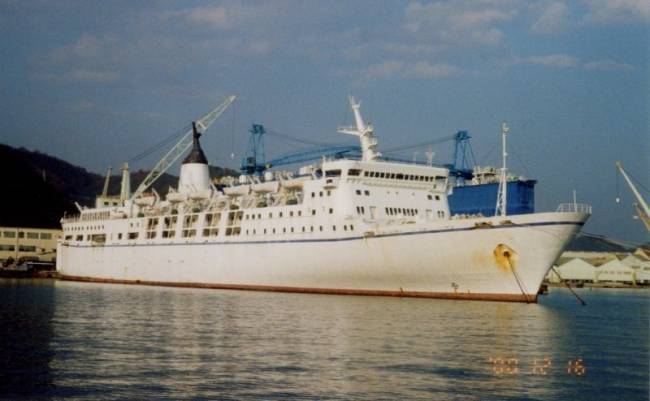 PARTICULARS
Flag
Japan
Year Built
1975
Where Built
Japan
Class
NK Ocean Going EXPRIED
Certificates
GRT
12,344
Net R. Tons
TDW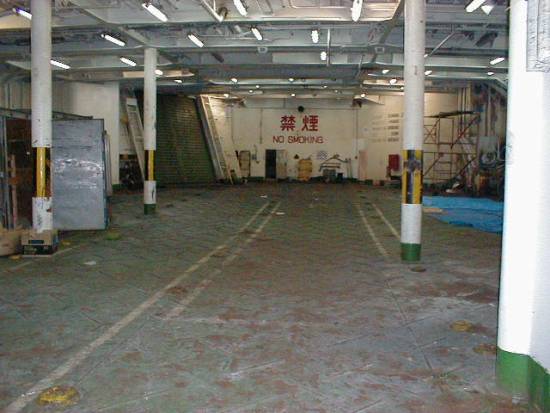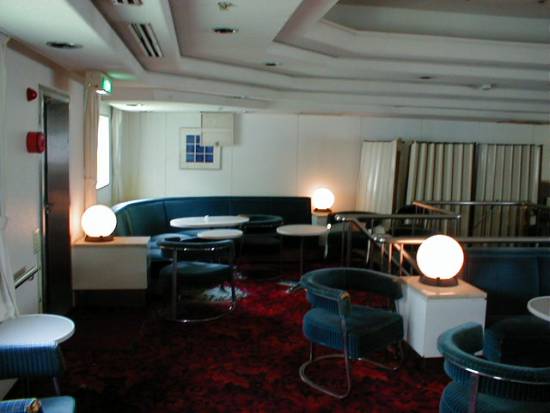 Power

Main Engine

2 - Mitsubishi 18,000 PS
Not operated in 2 years
Reduction
Propellers
Bow Thruster
Generator
3 - Daihatsu 60 Hz.
375 KVA
Auxiliary Generator
Bow Thruster
YES
Mitsubishi Kamewa

SP-800/AS, 11T X 262RPM X 750KW
Stern Thruster

Mitsubishi Kamewa

SP-500/AS, 6.9T X 333RPM X 450KW
PASSENGER ACCOMMODATION
SPECIAL CLASS (10PAX) 5 ROOM, 2 BERTHS BATH & TOILET EACH
FIRST CLASS (112PAX) 56 ROOM, 2 BERTHS EACH
ECONOMY CLASS (96PAX) 16 ROOM, 6 BERTHS EACH
ECONOMY CLASS (28PAX) 14 ROOM, 2 BERTHS EACH
ECONOMY CLASS (324PAX) 81 ROOM, 4 BERTHS EACH
OTHER FACILITY
Restaurant 290 sets, Grill 46 sets, SHOP, HALL, etc.

FLOOR PLAN
5 FLOOR BOAT DECK POOL 23M2
OPEN DECK 700M2
SKY LOUNGE 100M2 (49SEATS)
LISTENING LOUNGE 35M2 (17SEATS)
4 FLOOR SALOON DECK RESTAURANT 450M2(290SEATS)
GRILL 70M2 (46SEATS)
CARD ROOM 34M2 (24SEATS)
FORWARD LOUNGE 72M2 (31SEATS)
3 FLOOR MAIN DECK
LIBRARY 20M2 (16SEATS)
SMOKING ROOM 28M2 (27SEATS)
ORGANISER OFFICE 45M2 (30SEATS)
ORGANISER SALOON 15M2 (6SEATS)
DISPENSARY, LAUNDRY
2 FLOOR QUARTER DECK & DUTY-FREE SHOP
2 FLOOR QUARTER DECK & MAIN HALL (40SEATS)
1 FLOOR UPPER DECK ] MAIN HALL 360M2 (580SEATS)
B1 FLOOR ELECTION DECK No.3 CONFERENCE ROOM 230M2 (180SEATS) BATH ROOM X 2
B2 FLOOR UPPER DECK No.2 CONFERENCE ROOM 100M2 (90SEATS)
No.1 CONFERENCE ROOM 100M2 (90SEATS)
LAUNDRY X 2
010708