De-Listed - 350 Ton Self-propelled Barge
---
VESSEL IDENTIFIER: CHARTERERIC10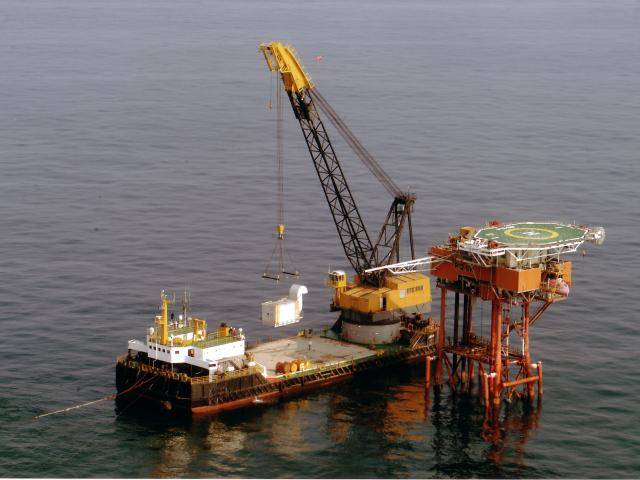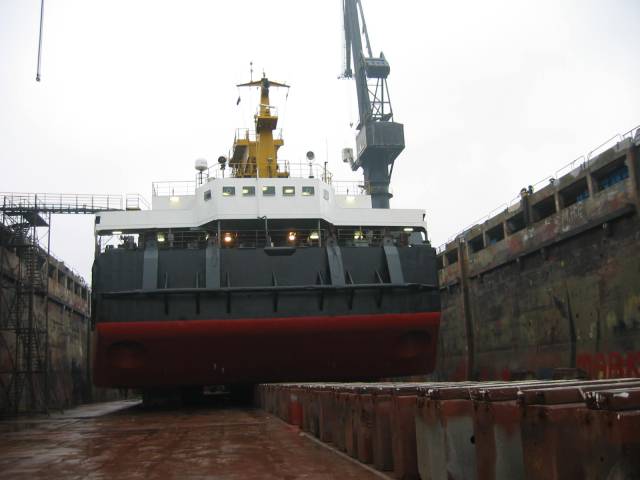 Crane Accommodation Barge
Principal Particulars
Type of vessel : manned sea going barge with stern mounted revolving derrick crane
Flag : Panamanian
Ship builder : Arsenale Triestino, San Marco
Year built : 1978 fully converted and reclassed in 1998/1999
Net tonnage : 2542 metric tons
Gross tonnage : 5890 metric tons
Length overall - Anchor rack to anchor rack : 75.95 meters (249.00 feet)
Length overall - Frame 1 to frame 117 : 70.20 meters (230.40 feet)
Beam overall - inclusive fendering : 23.58 meters (77.400 feet)
Beam overall - less fendering : 23.00 meters (75.00 feet)
Free deck area : 35 meters length by 23.00 meters width = (805m2)
Depth of hull from main deck to keel : 5.50 meters (18.04 feet)
Minimum draft : 1.80 meters (5.900feet)
Maximum draft : 3.80 meters (12.600 feet)
Total fuel oil storage capacity : 153.500 m3 / 130.750 metric tons
Total lubrication oil storage capacity : 10.9 m3 /9.81 metric tons
Total hydraulic oil storage capacity : 10.9 m3 /9.81 metric tons
Total processed dirty oil storage capacity : 12.0 m3 /9.81 metric tons
Total potable water storage capacity : 150 m3 / 150 metric tons
Anchor Winches
8 each single drum hydraulic motor driven
6 each fitted with 350 meters of 32.5mm 0 wire and poured sockets
2 each port and stbd bow units are fitted with 350 meters of 32.5mm wire with poured sockets as well as with 250 meters of 50mm anchor chain and swivel
connections to anchors.
Low speed line pull is 17.5 tons at 13 meters a minute.
High speed line pull is 8.5 tons at 28 meters a minute.
Systems nominal working pressure is 225 atmosphere.
4 each stern and 2 bow winches fitted with cap stands.

All winches fitted with dog type disconnect clutches.
All winches fitted with enclosed hydraulic disc and manual parking brake on wire drum.
All winches can be operated from the bridge or at local control consoles.
Winches are manufactured by Contento of Trieste, Italy.
Deck Cranes
2 each 5 ton pedestal mounted hydraulic cranes situated on tween deck at port and starboard sides at Frame 95 for provision handling and to service under deck cargo holds.
Cargo Hold Cranes
2 each 5 ton overhead bridge cranes located in port and starboard cargo holds on mono rails.
Travel distance fore and aft 15 meters. Cranes have the capability to travel fore or aft and the block can travel transversely and or hoist simultaneously. Cargo hold capacity is 480/500m3 x 2
The deck cranes and bridge cranes are manufactured by Contento of Trieste, Italy.
Main Crane
Type PhB Stern mounted gantry independent of barge support systems.
Boom length : 54.5 meters / 178 feet
Block Capacities
A) Main Block over the stern at 15 meters of radius = 350 metric tons or 270 metric tons at 15 meters radius revolving.
B) Auxiliary Block : 150 metric tons at 16.5 meters to 75 metric tons at 45 meters.
C) Whip Line Block : 35 metric tons from 19 meters to 48 meters .for hook work 25 metric tons
With grab work
D) Hold Back Winches 2 each 5 metric ton hydraulic type with fair leaders and 50 meters of 16mm wire.

Height of"A" frame and back stays above water line = 29 meters /95.0 feet.
Height of"A" frame and back stays above main deck = 27 meters /88.5 feet.
Prime mover : D-399 Caterpillar turbo and intercooled 990 Bhp, with a 700kw 875KVA/380VAC/50Hz generator set.
Main Hoisting System : consist of 3 each 236 kw electrically driven pressure compensated hydraulic pump sets which are looped together in a common manifold driving Hagglund hydraulic motors.
All operator functions are controlled from operator's cabin.
Load indication is via a Siemens electronic load indicator and boom angle indicator system.
Emergency Crane Operations :
In case of power loss from prime mover in the crane, the crane can be back fed through an auxiliary breaker from barge main power grid. This permits the use of one 236 KW pump set to be operated temporarily to allow the crane to be brought into position for repair and return to normal service.
Power generation : 3 x 330 kva Stamford generators 50 hz
Prime movers : 3 x 415 BHP Cummins type: NT - 855 turbo after cooled marine diesels (Installed 2003)
All units can be run separately or in a load sharing and parallel configuration. The units are protected by an electronic alarm system, reverse current, under voltage trips and thermal as well as pressure controllers, in the system.
Ballast System :
2 x Varisco J250/500m3 hour centrifugal ballast pumps (8.3m3 a minute).
Prime mover : 2 x 806AM 6 cylinder naturally aspirated Fiat diesel engines.
Ballasting valves and gauging system for the 10 each ballast tanks are remotely operated from bridge. Total ballast capacity = 2433m3/2495 metric tons
Potable Water System:
Water production equipment
A) Drema Main fresh water evaporator system using waste heat from main engines model EWS-10. Capacity 10 m3 per day. Year built and installed: 1998
B) Neutralizing mineralizing filter capacity 10m3 per day at 6 BAR capacity of fill 25kg of 3/4mm stone 100kg EWT compound.
Potable Water System / Distribution:
A) Hydro for system - capacity 2m3 at 3.2 bar, nominal pump type Calpeda capacity 26 liters a minute at 3.2.bar
B) Activated carbon filter system. Model HD-CF-6/20 capacity 6m3/hours contains 12 carbon activated filters and pressure differential indicators.
C) Berson ultra violet water sterilizers.
Model Maritime 5000 capacity 5.5m3/hours power 230V/1 phase/65 watt connected to electronic alarm system in the main engine room.
D) 5 x 9-CA-DA-1 activated carbon filter systems at galley services, drink water coolers/coffee service and laundry equipment.
Total drink water capacity is 150m3 39.630 usg complete water system installed in 1998.
Sanitary System:
A) Sewage treatment plant type aqua mar bio unit-MSP II
Delivery date of system April 1998 Flow capacity 5.75m3 per day
USCG number: 159015-9902/0
IMO number: 340016/1-3-94
Unit number: 1029-06/98
Discharge pump type circuit ES-120/2.6.ET-M
Capacity 17m3/hour at 24.6 meters of head power consumption 2.16KW
Power supply 3 x 330 VAC/G0 HZ
B) Auxiliary sanitary containment tank capacity 11 m3
C) Auxiliary culinary containment tank capacity 1l m3
Note: auxiliary systems are inter connected to main piping services and in parallel with aquamar bio unit. Both tanks have the same circuit/ES-120/2.6.ET-M pumps and cross manifold piping which allows for either pump to draw from either tank, high and low level alarm indicators connected into main engine room central alarm system. Total pumping capacity of systems = 3 x 17m3/hour - 51m3 / hour. Total static containment of effluent = 2 x 11m3/hour - 5 m3 /(27m3).
H.V.A.C.- System:
Fan and coil system, compressor skid complete.
A) Delivered by Heinen Hopman Engineers B.V. June 1998.
Fan and coil unit type = RDA-1012
Ref. number CAB98-30-045-PSSS 5344 Compressor type Carrier 5h-40-140 serial number 3497J-02139
B) Heater type K1H Capacity = 3 x 12.5KW / T=37.5KW 54.2 amp load Power supply = 3 x 400VAC
C) Cooling water pumps, air conditioner system
Manufacturer = Calpeda Montroso, Vincenza, Italy
Type BNM50/125AE/serial number 095483-3
H-max 23.5m H-min 15m
Q-max 66m3/hour Q-min 30m3/hour
Note: pumps, piping, starter and control cabinet replaced Within 1998 engine room modification, air-conditioning system designed to exceed original requirement by 50% for 52 man crew strength, can be adjusted to operate at 30-60-100% of rated capacity as needed.
Oil Water Separator System:
Type Victor Minisep bilge water separator Capacity lm3/hour at 3.45BAR (264.USG) (50PSIG) Serial number 96221
Note: The unit is outfitted with electronically controlled oil discharge control probe for recovered oil to storage, also 15PPM oil content alarm and diverter manifold system in case of fouling. Overboard discharge piping built with service lines, which allow for the use of this unit in port by returning cleaned water to bilges temporarily for storage. The processed oil containment tanks built into the system has a holding capacity of 12m3 combined (3.100US.G) and is fitted with high level alarms, which are built into the main engine room central alarm system.
Removal of processed oil is via a sludge pump and piping to main deck port side with quick closing valves and emergency shutdown switches in the bridge and main deck level. The system has been installed within the 1998 barge modifications.
Main Air System:
Ingersoll Rand model number PA-125-V-electric
Capacity 630 CFM/17.8m3/minute
Working pressure 7.6BAR/110 psig
Drive motor 107KW/380VAC/50F1Z tropicalized
Serial number= 01037477833
Note: All external manifold piping block and service valves and manifolds on main deck have been renewed. Service air is available from engine room to main deck to machine - and repair shop aft and is buffered with a 2m3 receiver on main deck level, as well as in case of compressor loss on ballast tank gauging system panel is interconnected via a pressure regulator to main system to allow for monitoring of tank capacities.
Fire Fighting System:
A = Fire detection system with 11 zones set apart Main system panel is located in the bridge with a repeater panel in the mess room.
B = The Co2 system covering main engine room consisting of 27 each 66.5 kg bottles manifolded together, mechanical and electrical warning systems and ventilation shutdown equipment come in upon activation of system.
C = Fire pumps Main fire pump electronically driven capacity of 100 cubic meters per hour at 100 meters of head
a. The system consists of 12 hose connection points from bridge deck head to main deck aft
b. Auxiliary sea chest to insure readiness at all times
c. Remote start / stop points in bridge, starboard main deck quarters passage way at Co2 compartments, and primary start / stop point at pump in engine room
2. Emergency fire pump
Diesel driven air cooled engine rated 32KW at 2000 Rpm coupled to a horizontal self priming centrifugal pump with a rated capacity of 50 cubic meters/per hour at 40 meters of head
Bridge Area:
Located on bow section of the barge and runs transversely across the entire width of the barge.
The four bow winches are located beneath and on tween deck. There is a flying bridge port and starboard sides with walkways which lead from the bridge to tween deck an main deck levels.
The bridge is fitted with the following pieces of gear:
4 each 2000 watt search lights
1 Gyro compass
1 echo sounder
1 GPS
3 sailor VHF radio's (GMDSS)
1 Satcom F 64 K data and fax system (installed 2003)
1 computer connected to the Satcom (installed 2003)
1 printer
2 typhoons
1 remote ballasting and gauging panel
1 longitudinal, 1 transverse inclinometer
1 master winch control panel
2 Kent screens
1 chart table /2 work tables
1 main fire detection panel
1 public address system, including contact in operators cabin of PhB gantry crane
1 emergency shutdown panel for all services
1 emergency radio battery charger and status indicator
1 mast and anchor light panel
3 Deck radio's
Set up with four rectangular and two circular tables with a seating arrangement to accommodate crew capacity. Mess room outfitted with Animo coffeemaker with a capacity of 2 x 10 liter pots, Mareno refrigerator, water cooler, plate racks and serving counters.
Entertainment corner with Sat. TV and Video
Galley
Set up with bake oven, soup terrine, deep fat fryers, gill, steam table, dishwasher, double sinks and side tables and Mareno refrigerator. All food handling equipment, extractor hoods, ceiling panels and light fixtures are of food beverage stainless steel material.
Scullery
Set up with potato peelers, bread mixer, meat grinder and tenderizer, 6 storage lockers, shelves, cupboards and double sinks and drain boards, bread making tables etc.
Laundry Room Equipment
The washing machine and drier are of the industrial type to accommodate a crew strength of 52 personnel. There are 3 extractor ventilator fans
Note
All hot and cold water services with respect to laundry, galley, scullery and mess room have been replaced with stainless steel ball valves and copper manifolds to point of usage. All end use appliances, coffee pots, drink water fountains, soup terrines etc. are fitted with a 9 inch activated carbon filter system. These systems have been built-in within the 1998 barge modifiations.
Provision Equipment
The system has three walk-in compartments:
A) Meat locker –15 o Celsius
B) Vegetable and fruit cold storage 6 o Celsius
C) Perishables at l o Celsius
The refrigeration plants are 5F20 carriers with Bilzer receivers and condensers and have 2 complete systems built-in. 1 for normal service and 1 for stand-by, with the exception of the locker cells, all of the equipment has been rebuilt or replaced inclusive of all pumps, piping, valves etc. within the 1998 barge modifications.
The system is set up with a full alarm system and all compartment doors can be opened from inside of the cells.
Crane Tub Main Deck Area
A) port side fitted with decompression chamber with bell access at port forward main deck
1 each Bauer high pressure bottle compressor
2 each high pressure receivers
1 each newly rebuilt 1 m cubed hot water heater which serves chamber and hospital
1 each emergency escape hatch via gantry crane inner rail circle
B) Starboard side forward:
HVAC system for sick bay (hospital) storage area and diving rod box heater
C) Starboard side aft:
Sick bay/hospital with double bunks, storage lockers, medicine chest, showers and chemical toilet
Machine Repair Shop Area
Located at the barge stern at main deck level and transversely across the entire width of the barge. It is outfitted with a lathe, drill press, circle cut off saw for steel, 3 each 500 amp transformer, welding machines, work benches, storage shelves etc. on the port side, at main deck level is the emergency fire pump compartment and on the starboard side at main deck level is the access via a stair well to cargo hold "F", located beneath main deck.
Estimated capacity of cargo hold F is 450m3 storage space.
Main Deck
Free deck area: Hand rails are set up with cales and turn buckles which allow easy removal for work over the side at any point, port or starboard.
Main deck area at port side between frames 45/50 has a storage locker built with deck access, locker size is 3 x 3 x 5 meters (45meters cubed). Tween deck area, port and starboard foreship fitted is with 1 each 125 amp and 1 each 32 amp Cee form electrical services in water tight compartments for support activities. Services are 380VAC/50HZ
This crane barge was totally rebuild in 1998 and newly re-classed by Lloyd's