SOLD - Aggregate Barge
---
This barge was formerly owned by the Military and was maintained in excellent government style. It has a 12' high house, is double hulled upper and lower decks.
This listing displays photos and drawings of a sister barge
Note: The owner of the barge has made an Aggregate Barge out of this warehouse barge. He cut off the house leaving 6 feet of bin walls. He also put 2 ramps on it.
VESSEL IDENTIFIER: UD11
Price: U.S. $ 225,000.00 FIRM
DIMENSIONS

Feet
Meters
Length
260
79.2
Breadth
48
14.6
Depth
15
4.57
DWT
3,500 Appx.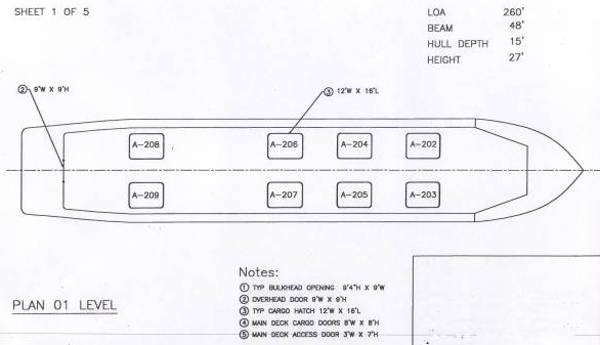 PARTICULARS
Flag
US
Year Built
1945
Where Built
USA
Registry
Class
Gross Registered Tons
Capacity
Certificates