Sold - Luxury Yacht
---
This Steel Ketch is pure, magnificent power and style. She is available for sale or Charter anywhere throughout Florida. She exhibits unsurpassed grace and beauty having been restored to sparkling condition.
VESSEL IDENTIFIER: YMB10
Price: U.S. $ 1,500,000.00
PARTICULARS

Feet
Meters
Length
92
28
Breadth
21
6.4
Draft
7
2.1
Engine
GM 6071A
Year Built/Rebuilt
1959/1997
Flag
US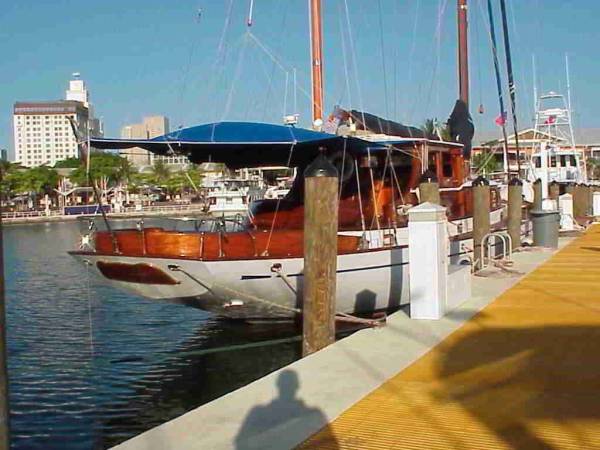 This Steel Ketch can accommodate up to 8 guests. Charters can originate anywhere throughout Florida, the Bahamas or elsewhere as pre-arranged. Cruises may vary from a few days, a week, or a month depending on the occasion. You say when, where, and how long!

She is a '92 Classic Rhodes / Sparkman & Stephens design offering the best qualities in performance, appearance, comfort, safety and shoal draft. White sails, teak decks and teak trim, horseshoe cockpit, deckhouse lounge, three double staterooms, dining salon, full width galley and four crew berths forward.

Perfect for business meeting, entertaining valued clients, or for the perfect private party to celebrate a wedding, anniversary or special family event, a private charter on her makes the occasion one to remember.

The ship was featured in advertisements of many magazines such as: (Bloomingdale's, Mondi, Ralph Lauren, Abercombie&Fitch, Details, ELLE, Vogue, Sebago, Saks 5th Ave, Elle, Neiman Marcus, Details, Macys, Anthropology, etc…)

Charters may be scheduled to begin on any day of the week and charters start and end at noon. Your charter will include the captain, who is your personal tour guide, all gourmet meals prepared to your preference by your own personal chef, a first Mate, and one engineer.